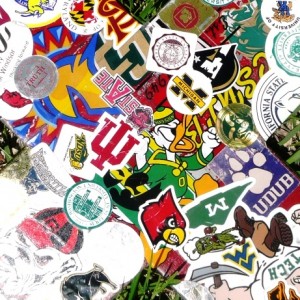 The majority of ministry wisdom lies outside your circle (whatever that circle may be). I am perhaps the Poster Boy for large-scale collaboration. Visiting a few hundred campuses and several hundred college ministers in the last few years has helped me encounter wisdom throughout our field. So I'm happy to extol all forms of ministry collaboration – from books to blogs to buddies – but there might be one aspect of this area we need to "RE-Think" more than any other.
In North America, there is no college ministry organization, denomination, region, or other "circle" that contains anywhere near a majority of the college ministry work. And however we might measure wisdom (or at least locate it) – rich history, number of ministry sages, number of students involved, years of experience, years of prayer, years of thought, years of training… the wisdom of everybody else added together will always equal more than my own circle's.
This means – by definition – that unless I'm collaborating with those outside my circle, I'm behind the times. And I don't simply mean that my ministry is in danger of being something less than "contemporary." I'm actually in danger of not "knowing the times and knowing what Israel ought to do," because my circle of counselors isn't complete.
I have long been rather intrigued (because I'm a nerd) by Newton's Law of Cooling. Basically, it observes that the greater the temperature difference between an object and its surroundings, the faster its temperature changes. So if I put my hot oatmeal in the fridge (instead of leaving it out on the counter), it won't only eventually cool more, but it will also immediately cool faster.
So maybe this is Benson's Theory of Learning:
The greater the differences between a learner and his collaborators,
the faster he'll find himself challenged, stretched, and exposed to truly new ideas.
I'd far rather collaborate with 5 experienced college ministers from various circles than 20 from the same circle! (Remember, learning via collaboration doesn't require agreement.)
I do understand the immense value in collaborating within our present networks and with like-minded or like-situated college ministers; particularly, it makes sense for very new college ministers to learn first from the "best of the best" within their circles.
But before long, the minister who learns only within his own circle will possess (without knowing it) the same issues faced by untraveled political ideologues who never change the cable news channel. There's no way to realize what they don't know, to understand practically why their own ideas are truly best, or even to grasp the actual stances of those in other camps.
Without a healthy dose of cross-circle collaboration, I'm in danger of becoming a college ministry ideologue – because the bulk of ministry wisdom will always reside outside my circle, no matter what circle I happen to call home.
I would love to hear any and all questions about this principle (or how to apply it), concerns about what I've said, illustrations of your efforts here, or challenges in practicing this! But beyond that, I also want to facilitate us "practicing what I preach." So if you have any questions about what I've learned "out there" from numerous college ministry circles, fire away. Consider this an open Q&A for today.