While I love getting a physical piece of paper or an email with an attachment, I believe there are even more effective and impactful ways to help communicate your ministry today.
Unfortunately, many ministry partners don't know or are not taking advantage of them.
This is a guest post from Steve Raquel, a Social Media Consultant and long-time financial supporter of Campus Crusade staff.
As one whose family has supported many people in ministry over the years, one of the highlights is receiving an update on how God is using them.
We love hearing about your struggles, your triumphs, your personal updates and how to pray.  It gives us a way to stay connected to you and feel like the monetary or prayer support we provide on a monthly basis is making an impact.
The updates we get have varied over the years in different ways, but mostly from written monthly newsletters and some through email updates with attachments.
Taking it to the next level…
One of the first platforms I would recommend is an online program called MailChimp.   While it is along the same lines as Constant Contact and Vertical Response, I have had great personal experience using it and I think is the easiest and most cost effective ones out there.
For those who aren't familiar with or are hesitating to use MailChimp, this blog outlines some of the key questions that tend to come up.
WHAT'S THE DIFFERENCE BETWEEN EMAIL AND MAILCHIMP?  AREN'T THEY THE SAME?
That's a great question and the answer is not really.
When people send out a email update with maybe a PDF attachment of their update, it is usually done by BCCing all the recipients in a generic message that is mainly a one-way communication.  However, in my mind, it has some significant drawbacks including:
If someone's email address changes, you'll get a bounce back and will need to manually add/change that email for the future.
The letters are impersonal on purpose, potentially leaving the recipient to feel like only one of many.
The attachment is normally a pdf, which normally isn't interactive.  You've sent it out via email mainly to save money on shipping costs, which is understandable, but it's static information that isn't very interactive.
If you want to add someone to the list, then you will need to collect the information and manually put it in your address list and remember to add them to the next distribution.
On the other hand, MailChimp is a user-friendly email marketing platform that allows much more integration and flexibility for both the user and the recipient.   Some of the benefits include:
The management of your distribution lists are managed online.  People can sign up and drop off without your involvement or management
You are able to create simple "groups" that allow you to send various communications to different support groups (i.e. – monthly financial givers, prayer support, prospective givers) under the same account.
The communication that is sent out is a custom designed emails with the ability to add links and photos easily to help spice it up.
The cost to maintain an account is very affordable (see below for details)
Since the creation and management of your communication is online, it is accessible from almost anywhere in the world.
You can actually get some quality metrics on how well your email has been read, how many times people clicked on links on it and even where in the world people are reading your email communication.
DO YOU NEED TO KNOW A LOT ABOUT PROGRAMMING CODE TO USE MAILCHIMP?
You really don't, which is great.  MailChimp has a relatively straight forward way of developing a customized e-newsletter design.  You can use a standard layout and/or if you have a little (and I mean a little) understanding of code and design, you can create a more personalized one.
In addition, MailChimp has great Q&A section, video tutorial and overall customer service forum areas (including for free accounts) that can help you get up and running short order.
HOW DO I USE MAILCHIMP TO MANAGE MY EMAIL LISTS?
MailChimp is similar to most other email management platforms in that you can upload an excel list of your support team emails and it does all of the calibration on their end.   Please keep in mind, these lists must already have agreed to receive email communication from you or you may get in trouble for email to an "unapproved list."
Once your list is uploaded to MailChimp, you can always manually make any changes you need to moving forward and as you send up more communications through the system, it'll give you some analytics on how they interact with your content.
Also, if you are concern about adding/subtracting people from lists, MailChimp takes care of that for you as well.  When people want to join your newsletter list, they can easily sign up via mail chimp and it is automatically integrated into your email list.
This can be done through a website link or Facebook fan page link (see below) or a tag that is at the end of every email sent out through MailChimp.  This is very helpful when your ministry recipient forward the email to others who aren't on your list!
WHAT ARE THE COSTS TO MAILCHIMP?
Accounts are free to up to 500 people and a sending limit of 6,000 a month.  From there, the pricing plan goes as follows:

To see the more information about pricing, click HERE.
To me, this is incredibly affordable compared to other platforms and its ease of use once you learn it will be so worth it!
HOW DOES MAILCHIMP COMPLEMENT MY WEBSITE?
The great part of MailChimp is that it is a great complement to your existing ministry website, especially ones built on WordPress, for the following reasons:
You can include a standard or customized "sign-up" box where people can sign up to get future communications from you.
You can create auto RSS campaigns that auto-send any entry updates to your website directly to your entire email campaign list.  This way, you don't even have to create a newsletter, just update your own website and it auto sends out a professionally looking newsletter that is customized to the names of each of your email list names including links back to your own website.
If you have a Facebook Fan page for your ministry, you can add a customized sign up box there as well to help spread the word!
To create a customizeable sign up box for your website, you need to click on the "lists" tab in your account and then click on the "design signup forms" box on the left.  If you have an existing list, then you'll get options on how to make it look right for your website.
To learn how to create auto RSS campaigns that sends updates to your email list from your website, you can click HERE to learn more:
Finally, you can find out how to add a sign up box to your Facebook Fan page by clicking HERE.
SUMMARY
There are too many ways to talk about how to use MailChimp for your ministry communication, but hopefully I gave you a glimpse on a couple of ways you can do it.  It is easy to use, affordable and allows you to stay in touch with your ministry partners in real time.
If you haven't opened a free account, I'd recommend that you do so now by clicking here to check out how it can work for you.
If you have any other questions on how to use MailChimp or other related communication questions, please feel free to leave a comment below or contact me at sraquel@iovmedia.com.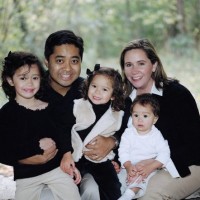 Steve Raquel is online social media consultant who helps individuals and businesses navigate and succeed in leveraging social media through his company IOVMedia.  He and his wife have four children and live in the Chicagoland area and have been active in Campus Crusade since their college days at the University of Illinois. They support numerous Crusade staff around the world and are currently are part of the area leadership teams for Family Life's Weekend to Remember, Art of Marriage, and Chicago Metro Campus ministries.   To learn more about Steve, visit his website at www.iovmedia.com.