LOOK FOR THE INTERSECT! Bill Bright was a man of many ideas—he threw them out rapid fire. Those of us who worked around him were the implementers of those ideas. So we learned to look for what he wanted to accomplish. We had freedom to think and ask," Is there a better way to reach his objective?" If we had an innovative way to go forward, he was always open to it.
One of the best ways I've found to look for the better way for more effective ministry is to look for the intersect. Where does God's Word/our mission intersect with the interests/needs of our target audience?
Libby Swenson noticed that God's Word talks often about caring for the poor, the abused, the prisoner, the orphan. At the same time she recognized that students today place a high value on meeting needs—they would often rather do service and ministry together than ministry alone. Seeing the intersect led her to begin a partnership between CCC and International Justice Mission—our students are helping to initiate IJM chapters on campuses and share the gospel in the context of justice issues.
Anna Nieboer, a staff kid studying in Winston-Salem, roomed with Nian from China. She discovered that many international student scholarships required them to work 20 hours a week, and the pay went toward tuition. It was illegal for them to work anywhere else, but they needed spending money. This situation often pulled them into major sex trafficking rings that operate near campuses. The intersect for Anna was to warn those she knew, to help them with needs and connect them to babysitting for local churches to earn extra income in a safe place. And open doors for the gospel.
I usually say my job is to travel the world and love and encourage our staff. I am blessed to have met thousands of our staff around the globe. But most I will not see again. How can I continue to reach out to them? Facebook has provided the perfect intersect for me. The vast majority of my FB friends are staff, many of whom I have never met. But I feel like I know them as I follow their lives and look for ways to speak an encouraging word or share a truth from God's Word. Then when I arrive in their nations, I already have friends there!
So if you are in a new situation, or feel stuck, or don't see the fruitful opportunities, don't be afraid to try something new. Innovation is in the DNA of CCC. Look for the intersect and take a risk—in the power of the Spirit.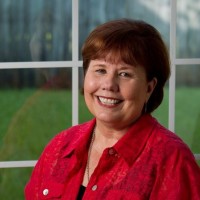 About Judy Douglass: "I am a writer, editor, speaker, missionary.  Most of all I am an encourager–urging everyone I encounter to know God and to entrust their lives to him for all He wants them to be and all He has prepared for them to do.  I get to go all over the world to do this loving and encouraging–what an incredible "job."
Read Judy's Blog by clicking here.