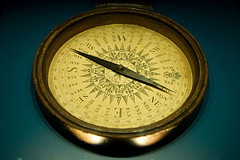 Leaders today have a great responsibility to be proactive and develop themselves. Those that wait for other people to develop them, who are hoping their character is going to grow just by physical proximity to other leaders, or who are waiting for others to provide them the magic skills to be successful reveal that they are perhaps not really leaders at all. This is the challenge and responsibility of self-directed leadership development.
Servant leadership values and ideas often fail to be integrated into leadership development strategies even though the idea is tossed around frequently. Today there are abundant resources to assist in our own leadership development, but one could spend days, weeks, and years consuming them and still miss the whole point.  
I propose that we as leaders need to re-think what servant leadership truly means and what it would look like to submit all of our self-leadership strategies to this over-arching orientation to power and influence.

So what is servant leadership? I'll lean on Robert Greenleaf's words as he writes,
"The best test, and difficult to administer, is: Do those served grow as persons?  Do they, while being served, become healthier, wiser, freer, more autonomous, more likely themselves to become servants?  And, what is the effect on the least privileged in society; will they benefit, or, at least, not be further deprived?"–from "The Servant as Leader" in Servant Leadership. (13-14)
Self-directed leadership development today is usually centered around three things:
Mastery –  The development of skills and competence to get results in whatever context one is in
Strength/Gift Development – Finding ways and places to use and develop one's one strengths and gifts
Soul care – Combating the pressures of leadership and challenges to one's emotional and spiritual health to have greater longevity, effectiveness, and personal satisfaction in the leadership journey (I'm including spiritual disciplines here as well)
All of these are important for our development and should be represented in your self-leadership plans, but of what benefit are they for our long-term leadership fruit if our fundamental attitude or understanding of the purpose of our leadership is unclear or off-base?
If we used the criteria of servant leadership as the greatest influence on our plans and strategies, we just may very well choose to focus on the development of different skills, different areas of maturing and character growth, and different strategies for wielding influence and power.  Instead of being tempted to chase competence and skill mastery we may find ourselves chasing trustworthiness, capacity for listening, cross-cultural awareness, or the skills of inquiry and question asking instead.  Instead of focusing primarily on adding to ourselves (skills, strengths, soul care), what would happen if we changed our focus so that we were increasing our capacity to add to other people?
We are not to be driven by skill acquisition or delusions that we must become little CEO's of our leadership contexts that have all the answers and abilities.  Here's the question that should drive our self-leadership development:  "Given who you are, where you are, and what you are called to do – Who do you need to become to embody and live out servant leadership (according to Greenleaf's test above)?"  And then, "What is going to help me become that person?"

To kick-start the discussion I'll suggest two practical ways to infuse your own personal leadership development efforts with servant leadership DNA.
Include a statement of vision and values in whatever development plan you choose to use.  This is where our values and leadership orientation is expressed and it's important to work some of this out so that your self-leadership efforts are value-driven and not just need-driven or organization-driven.
Constantly think about three degrees of leadership influence – especially all those people you don't have direct contact with all the time but that are being influenced through the group of leaders and people that are in your immediate leadership circle of influence.  This will help you think bigger than just what needs to get done RIGHT NOW, but about what needs to be deeply embedded in how people view influence and power for the sake of succeeding generations.
Servant leadership in the Scriptures and in modern leadership theory is not really about us as leaders thinking we are servants.  It is about whether those who are following us and those who cross our path are actually being empowered and served through transformational relationships.  We need to be intentional to move this direction because we have an immense capacity to deceive ourselves that we are being servant leaders all the while those under our influence are not really being served at all.
For discussion, what connections do you make when you re-think the nature and end-game of leadership development as it relates to servant leadership and leadership reproduction?
What ideas or suggestions do you have for keeping your leadership development value driven and fueled by servant-leadership?