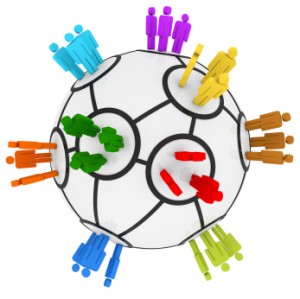 What if you spent 10% of your time online collaborating with others on how to get better at college ministry? We teach graduating students how to be good stewards of their money. We talk about sacrificially sending our best people to all parts of the globe to pioneer new movements. Yet few people set on reaching university students view spending intentional time online to learn and share with others as a worthwhile cost/benefit.
I suggest every person who desires to see millions of students bringing the gospel to every corner of every campus should tithe of their time online to share tips, resources, ideas, struggles and stories. The mission can't be executed by creating trade secrets, hoarding knowledge, or protecting resources.
Today's web tools scream effectiveness as they empower learning, uber-transferability and scale. The platforms exist, but a mindset of collaboration doesn't.  By spending five minutes to upload the presentation from your last small group leader training you could save someone hours.  Instead of pinging someone with an email, having the conversation on a forum might allow someone else to answer the question better than you could.  Tweeting the articles you're reading helps identify valuable insights we can all benefit from.
Do you think the eternal rewards of investing 10% of your online time could be worth it and make the  other 90% of time more effective? There's probably someone who knows a lot more about reaching students than you.  There's probably someone who could really benefit from what you know about reaching students.  If we're all on the same team, for the same mission, for the same King, then why aren't we talking?
[Photo courtesy of tiridifilm]