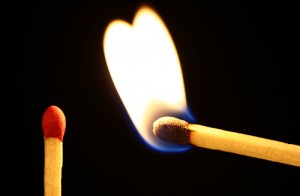 Stop being so shy and start "sharing the wealth" with people all over the globe. You are an expert. Or at the very least you have experience in your context and environment of ministry that no one else has. The even crazier thing is that others want to hear about it.
Imagine sharing your experience/strategy/perspective with others on a blog, a conference call, a Skype video chat, a Google document or just sitting across the table from someone. Now imagine the new leaders that could be empowered all over your city and the world. The tools are there, all it could take is a little time and humility on our part. We now have the ability to cross huge geographic distances instantaneously. A campus minister in Montana can share his strategies with someone serving in the Middle east in real time.
There are barriers for sure.
I like to learn new stuff. Before I can even process what I'm doing or thinking I'm on to the next thing. The urgency of ministry outweighs the need to help other campus ministers have insight into my daily life. Also, sharing what I'm doing (strategies, perspectives, tools, etc.) involves facing a lot of fear. Fear of looking foolish, fear of being challenged and fear of being wrong.
I need to get over myself. I don't have it all together, I never will and it's often better if I don't because it empowers others. Who cares if I look a little foolish letting people into what I'm doing in ministry. The value of having someone engage with my situation is off the charts helpful for all involved. Think about it, it's not the blog posts that are the real value of the blogference, it's the collaboration in the comments.
Do you and you team see value in the tools that are available to share the wealth with others? Do you trust others enough to share what's going on in your context and learn from their insight? Why do you fear sharing the wealth?

Photo courtesy of furiousgeorge81