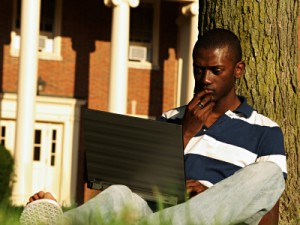 How do we know that students are really receiving Christ online? Well, let's look at what they do.   Let's look at their actions. Consider everystudent.com… People will click the link that says, "I just asked Jesus into my life." Yes, that's easy. Yet, this link is offered only at the end of some of the articles–the long ones–about 4,000 words.
And, Google analytics shows that people spend an average of 5 minutes on these particular articles. That's a significant amount of time, enough to read the full article.  (actions )
Some will also send an email like this: "I found my faith on this website! Last year around August, and i hadn't thanked you yet. Thank you so much, i love God with all my heart and this site planted the seed in my heart that grew and flowered!" (more actions)
— This year we're offering new believers an online followup series, "The Spiritual Starter Kit." About 8,000 have entered their name and email address to receive it.  (more actions)
— Through a survey, about half said they had connected with a church or a Christian group on campus. (more actions)
— When we offered new believers a place to connect with other believers on a Facebook page, many did. And posted comments like, "awesome group and everystudent an awesome site..im new to christianity but loving it…. (more actions)
Ok, so these seem like real people becoming real Christians. How would this work in YOUR day-to-day ministry?
The key in online evangelism is to offer unbelievers something that serves them well.  In most cases, they took the initiative to search for an answer on Google. Or a Christian friend encouraged them to go to the Website. So, they're pretty highly motivated. Once they get to the site, it needs to serve them well. It needs to deliver on those questions that are important to them… such as,  "Does God exist?" "How can I find purpose?" "Does God answer prayers?" etc. The messages need to be solid, engaging, and persuasive.
Beyond the messages, there is another reason this penetrates many hearts and minds. A Website is a student's comfort zone. They are comfortable there. They're able to hear and consider God in a significant way.  In this unique environment, they can consider who God is and what it might be like to know him. If the site you sent them to serves them well, you have a powerful evangelistic tool.
How can you begin to use online evangelism in your ministry?
Do these two things, and you'll be in the top 2% who are using online well!

1. Help your Christian students become aware of everystudent.com (or some other evangelistic site, if you prefer). Show it to them in a meeting. Click through it with them. Show them some of the questions it addresses. If it's everystudent.com, you can show them this PowerPoint presentation
2. Now that your students are aware of a useful evangelistic site, now give your students some easy action steps:
1st week – ask them to encourage five people to see the site.
2nd week – ask them to followup with one person and ask, "Did you check out the site? What did you think? Did it make sense to you? Have you ever considered having a relationship with God?"
3rd week – ask them to email one article or video of their choosing, to a friend.
4th week – ask them to post an article or video to their Facebook page, and "like" others' postings.
5th week – ask them to write something about their relationship with God on Facebook. (or they can create their own page on everystudent.com, here: http://www.everystudent.com/valueGod) Have them share their message with one friend.
6th week – ask them to invest $10 and run a Facebook ad to that site, on their campus (see www.EveryStudentPromotion.com)
The list can go on and on. This is how it becomes local. This is how Christian students learn to reach their friends in their world, online.
~~~~~~~~~~~~~~~~~~~~~~~~~~~~~~~~~~~

Questions for you:
— What do you think would happen if you encouraged Christian students to use an evangelistic Website? (positive or negative)
— Why do you think we often put an evangelistic Website in the "event" category, rather than part of normal, daily ministry?
— What part of online evangelism would you like to understand better?