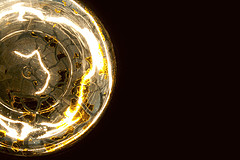 "Innovation is the ability to see change as an opportunity, not a threat." Thanks to all who have read in and commented on the previous two posts on Evangelistic Engagement. I hosted a video conference with Bob Fuhs, Associate Director of Field Strategies for the Pacific Southwest Region of Campus Crusade for Christ, and Dan Birch, new staff heading to Arizona State University on what it means and why we should innovate in evangelism.
Both shared insights into the value of innovation:
"I have been frustrated by the passivity in those I shared the Gospel with on campus" –Dan

"You don't have to give everything to every person you share with all at once" –Bob

"It's easy to get comfortable in sharing your faith" –Dan

"The Gospel message is timeless and our challenge is to communicate that timeless message in an ever-changing culture"–Bob
Besides reactions to the video please share:
what IS working in your local ministry evangelistically?
what part of the Gospel message is most compelling to those you are sharing with?
what part of the Gospel message desperately needs innovation in terms of communicating contextually?
Can't see the video?
Click here to watch