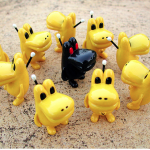 Once upon a time, I too, was a student involved in Crusade on a campus that was a bit hesitant about having us there. My life changed through those bible studies that were meeting in cramped dorm rooms and lounges. There was  a spark within me to begin to live life differently. I embraced conference-life, joined staff, pioneered a new movement in a beach-party town. I decided to go international. I raised support, wrote the prayer letters, lived the life of a tried-and-true Crusade staffer. After my time overseas, I was feeling pulled in a different direction of ministry, it was then that I joined the staff of a local church here in Wilmington, NC –Port City Community Church.
We've experienced quite the leap in our attendance over the past few years, meeting in middle schools, movie theaters, and on college campuses, it was time for our own space. A building was built and our attendance boomed. It was quite humbling, as we weren't quite ready for such a leap. Since then, a year and a half later, we're still trying to catch up to our ever-present reality. How do we reach more people? And with that, how to we equip those in our reach to step up and out, to lead, to make disciples of all nations. It's a humbling question to ask when you feel dwarfed by numbers. How do we keep our core informed and equipped? What's more, how do we create ownership and delegate the task of personal ministry to an ever-rotating crowd. We've put some things in place to help keep the stories of changed-lives at bay. It's not going to happen overnight, and certainly not without intentionality.
In our staff meetings, we realized there were a lot of great stories being told that the whole church needed to know about, so a blog was created.
For years we've being doing a My One Word series (a better alternative to new years resolutions), recently featured on K-Love that now has the framework to be an ongoing part of someone's life, with a word journal that comes once a week to your inbox. [RSS readers: My One Word video below]
My One Word | Joe Hawksworth – "Thought" from PC3 on Vimeo.
Our twitter feeds into other blogs for different ministries within the church, helps create a [more] unified message.
We also have several facebook fan pages hooked up to twitter accounts that we can use to tell stories of changed lives.
All of these things have helped to create a [more] unified message with up-to-date information.
On a personal note: I've loved being a part of the twitter community here in Wilmington, NC. In January, I decided that my bubble was much too small and a little too comfortable. We have an active group that gets together monthly to talk about twitter and how they're using it to help their business, while also supporting local causes. It's a new community for me to be a part of and it's helped me to meet people I wouldn't have known prior. People with common interests, that might not ever cross my path otherwise. It is really very easy to view ministry as a job, especially in the ranks of para-church and church ministry. That has a danger to it. It has become increasingly important to me to pay attention to my life from a personal side.
Please comment below on how you are creatively using social media in your ministry and personal life to create a more unified message